Content
The next step is to enable content on a web server. Alexa ranks websites by pageviews and unique users per country. It is therefore possible to retrieve the Top-50 websites per country.
For each of those websites, an AAAA request is made to DNS servers for the exact domain name and also possible test names such as www6.mydomain.mytld or ipv6.mydomain.mytld.
For each AAAA record test if the webpage is working in IPv6.
Color: Weighted ratio of IPv6 enabled websites
Indication: Weighted ratio of IPv6:

in test: test domain name working in IPv6
failing: AAAA record exists but webpage not working in IPv6
other: not IPv6 enabled websites
The weight is calculated as follows: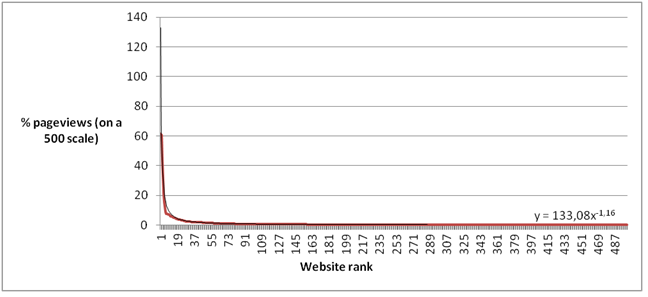 This is an approximation f where pageviews = f (website rank) based on world data. Therefore the weight of a website X is the probability for a random user in a random country on a random webpage, that this webpage belongs to X. Sadly it is unable to extract from Alexa specific country data about pageviews.
Source: Alexa for websites rankings per country.
DNS servers: OVH, Google, Cisco.